Interview with Professor David Millán.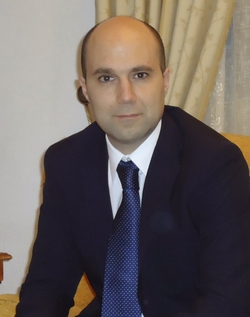 What do you teach at IE? How long have you been teaching?
I teach the core course of Strategy at different programs such as the IMBA and the Executive MBA.
Additionally I teach the course Luxury Strategy at the IMBA program as well. This is an advance strategic course to understand the specific characteristics that the management of a luxury firm requires.
This is perhaps more than a course as students not only learn the strategic fundaments of luxury firm but also they experience the role of creativity by becoming the designer of their own luxury project. It is very exciting to see how students can balance both their analytical and creative skills, which is essential for luxury executives.
Why do you enjoy teaching at IE?
Certainly teaching at IE is an extraordinary rewarding experience, I simply love it!. Being exposed to such a diverse and talented audience is very enriching and so difficult to find anywhere else.
I also enjoy preparing my classes with my own case studies. Writing case studies and sharing them with students is also a fantastic experience.
Why did you get interested by luxury goods industry?

Well, I have been always been attracted by the ability of going beyond the limits of what I call the rational (or common sense) products. Even when I was a teenager I was attracted to this short of companies, so in away it has always been there.
Then when I started my career I wanted to work for such companies and I end up being the marketing director of yacht shipyard.
This is the second year you conduct the research IE Luxury Barometer. What are your key learnings?

I tend to believe that it is the dynamic factor what has been more insightful. Talking and discussing with luxury executives while preparing the IE Luxury Barometer, has given me a better understanding of how dynamic this market is. Unlike commonly perceive, luxury is not a static industry based on classical values. Quite the opposite these companies are very creative and innovative.
If you had to guess about luxury industry in a decade. What would be biggest change?

Well, this is a very interesting question. As I just said, dynamics are very important in this industry. I believe that luxury is about creation. Here I just want to clarify that we need to understand better the creative process and go beyond stereotypes and simplifications (such as creativity tight to individual talent, which is important but not the only aspect to consider). In any case, what I mean is that the ability to create is what breaks what I call the "rational paradigm" of the mass market.

I say this, since I see in these days some luxury firms entering the realms of the mass market, or at least using their parading to manage their firm. This is a consequence of the explosive growth we have experienced in the industry. I believe in the years to come this will set apart successful firms from other which will suffer more. Growth is another aspect that is going to shape the market, the geographic driven model seem to have reached some limits, so I believe companies would need to come back to their creative ability to provide value.

And last but not least, the evolution of the meaning of luxury. New generations are entering the industry, these new consumer has two main characteristics, one the influence of technology and two, and evolved understanding of luxury. This is a much more complex matter. Luxury has always been evolving, so there is nothing new and there is no need to panic now. What needs to be considered is how society will continue defining what luxury is. This will certainly impact the ability of certain companies to remain relevant in the market.

If you had to describe luxury industry you would say…..

I summarize my approach to luxury saying that luxury is the art of creating excellence. I believe it has the three main aspects needed to fully appreciate what the concept of luxury is about: art (as a way of doing), creation and excellence.
And while society will evolve providing new meanings to luxury, these aspects will remain. So one thing is the concept of luxury (which remains) and the other is the specific meaning a given society provides to luxury (which evolves). I believe firms are so concentrated on getting to know the short term (the market data, the consumer trends..) that they are losing their ability to create value. One needs to be really careful about it, otherwise you could become a slave of the market instead of a inspiring creator.