September 2018

Newsletter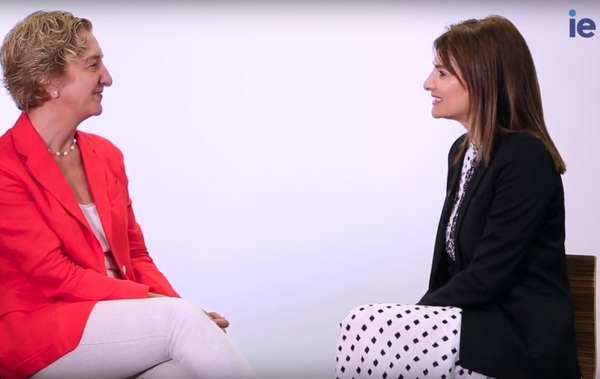 interview with virginia irurita @ masters of premium & luxury
The new episode of the "Masters of Premium & Luxury" series features Virginia Irurita, founder and co-owner of Made for Spain & Portugal and also one of the experts that participated in the IE Premium Travel Barometer. Maria Eugenia Girón will go through the keys of Premium Travel with her in a very interesting interview.

You will find it in our YouTube channel where you can also view our first video where Luca Solca, Head of Exane BNP Paribas, talks about the IE Luxury Barometer 2017 in an interview with Maria Eugenia Girón, Executive Director of the IE Premium and Prestige Business Observatory.

To watch the video in our YouTube channel, click here.
"the digital journey of a premium traveler" research
IE Foundation and Google are glad to invite you to the presentation of their first joint research project called "The digital journey of a Premium traveler". It will take place on October 23rd at 6:30 p.m.

To confirm attendance, please write to: observatoriopremium@ie.edu.
is it a luxury to support philanthropy or taking sides?
by María Eugenia Girón

Until now, the practice that prevailed for luxury brands has been neutrality. What is new is that the brands are committed and take sides with a cause.

Read article @ Forbes Mexico
bsr new report: disrupting luxury
BSR has released their new report "Disrupting Luxury – Creating Resilient Businesses in Times of Rapid Change". This report is published by BSR on behalf of their Responsible Luxury Initiative, and marks the first time 15 leading luxury brands such as Kering, The Hong Kong and Shanghai Hotels, Swarovski and Tiffany & Co. have collaborated to put forward a common vision of how luxury can thrive in an era of unprecedented change.

Read report here
tourism and premium tourists in latin america
by María Eugenia Girón

The arrival of international tourists to Latam has increased 7%. UNWTO anticipates receiving more than 78.2 million tourists in 2027. How to attract Premium tourists?

Read article @ Forbes Mexico
a paradigm called new luxury is being built
by María Eugenia Girón

The hybridization of luxury with the "street style" to welcome the values ​​of the new and to set aside values ​​of tradition and legacy while recognizing the dominance of millennials is the new reality of luxury.

Read article @ Forbes Mexico
ie mastercard premium observatory @ zoom tendencias
"Zoom Tendencias" is a weekly TV program on La 2 that highlights and analyzes today's lifestyle with features on interior design, fashion, restaurant or cosmetics; always trend-setting styles. The episode aired on September 16th titled "Madrid 7 estrellas" focuses on Madrid as one of the most visited European cities for a variety of reasons, such as FOODIE tourism –it has 20 Michelin-star restaurants–, Art Museums, Music Festivals or Gay Pride celebrations. Maria Eugenia Girón is interviewed as a Premium Tourism expert to give her perspective.

You can watch it here
Contact

María de Molina 6, 1st floor
28006 Madrid
observatoriopremium@ie.edu
www.observatoriodelmercadopremium.ie.edu

Hemos actualizado nuestra Política de Privacidad para cumplir con el Reglamento General de Protección de Datos de la Unión Europea. Por favor, te recomendamos leer nuestra nueva Politica de Privacidad y te agradecemos por seguir formando parte de la comunidad IE. En cualquier momento podrás ejercitar tus derechos de acceso, rectificación, supresión, portabilidad, así como revocar tu consentimiento, tal y como te informamos en esta nueva Politica de Privacidad.

We're improving our Privacy Policy in order to comply with the new European Union General Data Protection Regulation. We encourage you to read our new Privacy Policy and we thank you for being a part of our community. At any time, you can exercise your rights to data access, rectification, erasure and object, as well as restriction and portability, and withdraw your consent, as explained in the new Privacy Policy.