February 2018

Newsletter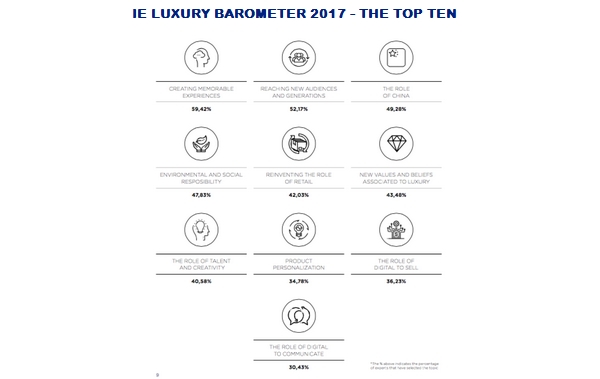 ie luxury barometer 2017 presentation
The study presentation took place on Monday January 29rd at the Paper Pavillion and it was done by professor David Millán and followed by a roundtable moderated by Maria Eugenia Girón Executive Director of IE's Premium and Prestige Business Observatory with Luca Solca, Head of luxury goods at Exane BNP Paribas.

In Memoriam: Carlos Delso

Last September Carlos Delso Mión PhD, Associate Professor at IE, Luxury Executive and Angel Investor, left us. He was with us, participating in last year's IE Luxury Barometer's presentation. This year's presentation included an In Memoriam act honoring him.

"This presentation today is a tribute to a magnificent professional, a wonderful person and a great friend", said Maria Eugenia Girón at the presentation.

Susana Campuzano, Director of PSUL (Programa Superior Universo del Lujo) at IE dedicated some words to Carlos Delso.
luxury retail summit @ columbia business school
"Tailoring Retail Strategy to the Customer in an Uncertain World" was the title of the conference that took place on February 2nd at Columbia Business School. Ketty Pucci-Sisti Maisonrouge, Luxury strategist, associate professor at Columbia Business School and IE associate professor along with Maria Eugenia Giron, Executive Director of the IE Premim and Prestige Business Observatory were guest speakers at the event.

Read more
luxury, a multi-cultural issue
by María Eugenia Girón

A luxury ensign seller anywhere in the world must understand the cultural codes of any customer to be able to provide a memorable experience to them.

Read article @ Forbes Mexico
luxury: exclusivity, hemispheres & inclusivity
by María Eugenia Girón

Expanding and maintaining exclusivity, managing right hemisphere / left hemisphere people, and being exclusive and inclusive at the same time are the challenges ofr luxury brands.

Read article @ Forbes Mexico
what do premium tourism value in 2017?
by María Eugenia Girón

Stores that were cast in the same mold are long gone. Best practices try to make the store an interactive stage, or a private place where one can access by invitation only.

Read article @ Forbes Mexico
luxury in the age of digital darwinism
To survive and prosper, luxury players need to enhance the customer experience and transform their businesses for the digital era.

This new report from McKinsey & Company tells us all about it.

Read report
Contact

María de Molina 6, 1st floor
28006 Madrid
observatoriopremium@ie.edu
www.observatoriodelmercadopremium.ie.edu

Your personal data were taken from databases property of Fundación Instituto de Empresa and will be used for informing you about Fundación Instituto de Empresa activities. If you do not wish to receive future communications please send an email to soportededatos@ie.edu

Sus datos personales han sido obtenidos de bases de datos propiedad de la Fundación Instituto de Empresa y se utilizan únicamente para informarle de las actividades propias de la Fundación Instituto de Empresa . Si no desea recibir más correos electrónicos envíenos un mensaje a soportededatos@ie.edu