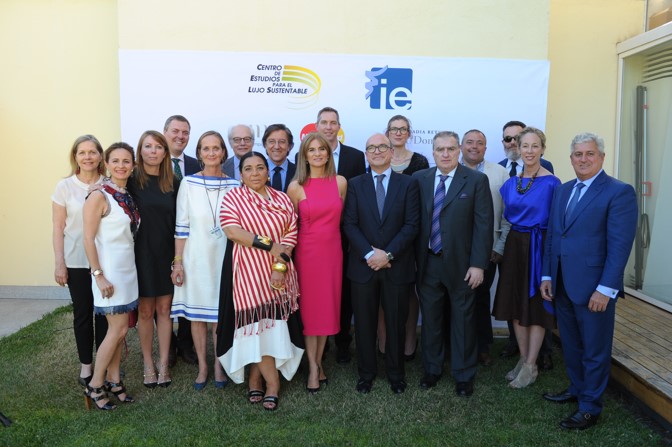 Santiago Iñiguez, President of IE University and Dean of IE Business School, Maria Eugenia Giron, Executive Director of Premium & Prestige Observatory, jury, sponsors and the winner of the 6th edition
The IE Awards for Sustainability in the Premium and Luxury Sectors are an annual recognition of the ability of new generations of entrepreneurs to innovate and integrate in their strategies the values of sustainability and responsibility. This year's edition has included for the first time the category of Smart Luxury.
The winners of this sixth edition of the IE Awards for Sustainability in the Premium and Luxury Sectors are leaders that transform, inspire, provide intellectual incentives and are concerned about people and the environment. Such leadership and inspiration is crucial in moving toward sustainability in the luxury sector, said Miguel Ángel Gardetti, director and founder of the IE Awards for Sustainability in the Premium and Luxury Sectors.
Round table on Smart Luxury
A round table discussion looked at digital and sustainable transformation in the premium and luxury sector, under the heading "Exploring the links between technology and responsible innovation in premium and luxury", moderated by María Eugenia Girón, and attended by Scott Hamlin, co-founder of Looptworks; Kavita Parmar, founder of the IOU Project; Pepita; co-founder of We are Knitters; Conchita Galdón, director of Area 31, and Alicia Parro, editor of Glamour España magazine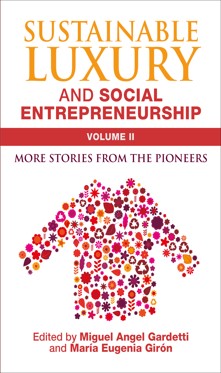 Book presentation : Sustainable Luxury and Social Entrepreneurship
This year's event also saw the presentation of the second volume of Sustainable Luxury and Social Entrepreneurship, by Miguel Ángel Gardetti and María Eugenia Girón. The event was moderated by Lasse Gustaveson, Executive Director of OCEANA in Europe, accompanied by Rachida Justo, professor of entrepreneurship and social entrepreneurship at IE, and sustainable pioneers such as Alan Frampton, the British creator of CRED, along with Gudrun Rogvadottir, co-founder of Gudrun.

Alongside the honorees Pascale Mussard (Petit H), Simone Cipriani (Ethical Fashion Initiative) and Meche Correa fashion designer and ambassador of the Peru brand were awarded entrepreneurs who have played a significant role in integrating sustainability and luxury

Category : Hospitality
Company : Campi Ya Kanzi
Represented by : Pio Cabanillas
Campi Ya Kanzi is a luxury safari accommodation in the Tsavo savannah in southern Kenya, part of a Masai reserve of more than 113,000 hectares owned by the Masai community, meaning that part of the profits go directly to tribe members. All construction uses local materials.

Category : Beauty and Health
Company : Kahina Giving Beauty
Represented by : Katharine L'Heureux
Kahina Giving Beauty is a company that makes premium organic skincare products. Kahina Giving Beauty's mission is to provide the highest-quality products for the face and body while conserving and protecting the natural, human and cultural resources behind the brand.

Katharine L'Heureux shares her impressions on the awards:
" I was truly humbled by the expertise and dedication of the other award-winners and honorees and so proud to be included amongst them. I am so impressed by the integrity of your organization and your mission to promote sustainability in the luxury sector. I leave Madrid with fresh inspiration to learn and improve in our own practices at Kahina."

Category : Smart Luxury
Company : Looptworks
Represented by : Scott Hamlin
Looptworks, a Portland, Oregon-based company uses recycled material to make attractive and useful things for daily life. It is recognized as a pioneer for its environmental approach to the design and production of their goods that is reflected in the company's motto: use less, make more.


Category : Apparel
Company : Guðrun & Guðrun
Represented by : Guðrun Rógvadóttir
Guðrun & Guðrun is a knitwear company specialized in hand-knit. The company was founded in 2002 by two Faroese women. Their vision: to make clothes that meet the standards of conscious customers that do care about each other, the environment, our common natural resources and that yet want to be stylish...The hand-knitted collections are made in the homes of women's knitters on the Faroe Islands and in Jordan and Peru as part of women empowerment projects.